Day 1: Liftoff! 04.05.2010
Song of the
Day

: Jimmy Eat World: Blister
Early morning, im woken up from the sound of a 1980's alarm clock which quickly gets set to snooze. My girlfriend's alarm clock goes off again promptly ten minutes later, reminding us that we are going to say goodbye today. Its been like a time bomb with this trip and it went off today. Its so incredibly hard for me to leave her. I didn't realize how much I would care. I thought I was going to do the guy thing and shrug it off, pretend like it doesn't bother me.
I walked with my pack and walking stick to 1117 south 2nd St. Philadelphia, where my starting location was set. Max and Dorsche grew up in this house that has the years on it to say it's housed a fair amount of generations, so it seemed fitting to start from here.
After a few shots were taken for a local paper, I started walking, saying goodbye to friends on the way: Oscar, my video game companion, Crasian, a fine Asian friend I've known since college, chris(mouth), who walked a few blocks with me, a final goodbye to Steph, with tears, and out of Philly I walked. I stopped by SJU one last time and my friend Cara's house to say goodbye to Eryck, a friend who has been on many trips with me but will miss this one.
My first
day

was too stimulating to really accept this reality that I am starting this trip. I still haven't completely internalized it. I just know that I'm in the woods, alone, and trying to figure out why. I'm a little scared. I'm a lot of excited. I'm hungry, I need some peanut butter sandwiches! Take care guys, and thanks so much for everyone who started following me on Twitter today and thought it would be cool to see what I'm up to! Your support is not only appreciated, but needed right now! Thanks again!
mike
day 2: Still in the womb 04.06.2010
Song of the
day

: We Were Giants by The Wonder Years
I woke up this morning to a light rain, packed up as soon as I could in the twilight, and started out. The back of my feet hurt, both, and of course they should. After all the walking I've done to prepare for this I never felt this pain. But whatever, just gotta work through it. Little things like this put me in a state of isolation because there is nothing I can do but keep going. I can't go home and rest it off, I can only deal with it.
I was able to borrow some power to charge my stuff at McDonald's, thanks guys. I found a few really nice patches of grass to dry my equipment out as the sun started to clear the cloudy grey
day

. One thing I found when this

day

would end and that is I NEED SUNSCREEN NOW! When the hell did it ever get this hot this early in the year!
I stopped for lunch next to a small creek and started to really pay attention to what was going on and what everything was doing. It pretty interesting to watch bugs, animals, and humans interact with each other. I've never just been able to sit back and pay attention. The brilliant idea of just exsisting and enjoying life escapes a lot of people because they get lost in routines, which turn into steady train ride that we sleep through.
I'm in West Chester now, staying with an old friend I grew up with for a few
days

. I grew up as a kid around here and though it feels like home a little it also feels like a totally new place because of the way I got here. There was more in-between Philly and West Chester than I thought, amazing farmland, rivers, some interesting folk, all things I anticipated but could never fully appreciate til right meow. This whole trip is going to be like this. I need shorts, take care

mike
day 3: Get it? 04.07.2010
Song of the
Day

: Jonny Cash (Any Fuckin Tune)
Dear Lord I hope young kids know who Jonny Cash is and realize he's AMACIN! I spent the
day

in West Chester and even though I've only hung out here for a

day

I'm getting the insane iche to get the hell out of here.
I'm getting excited about getting out there again. I felt the exact opposite getting here. I felt so much doubt because all the challenges hit me at once, it was overwhelming, again, at this point there is no choice.
I just wish I could watch Archer everyday, it's the best show on television now. Take care.
day 4: why not?! 04.08.2010
Song of the
day

: Motion City Soundtrack L.G. Fraud
My wallet is gone. Along with a substantial amount of money, my debit card, license, etc. Getting another card will take three months, which means temporary cards back to back for the entire trip. I'm standing outside my friends apt til 6PM which has my pack and walking stick inside. I'm trying to figure out how I'm not completely fucked here, trying.
The
day

started out easy enough. My brother and father came with me to transfer my car title over and to give me my new SD cards for my camera. The title transfer was flawless. As I was saying goodbye, my brother asked when I'd be in Lancaster. I put my wallet on the top of his car and whammy! That's all folks! He drove away with it.
When I finally figured it out it was too late. I combed everywhere for it, looked in stores to see if it had been recovered, and finally went back to the auto tag place where I had just been and filled out an application for a new license.
I just wanted to get some sunscreen on and walk for a while, damnit. Take care.
day 5: on the road again 04.09.2010
Song of the
Day

: Kiss Kiss - All They Draw
Location: Coatesville, Pa
Finally back on the road again today! I was starting to feel like a fraud. I was able to get a temp debt card and my passport for ID today so I have at least that. It was an exciting
day

because I finally made it out of familiar territory. I took route 162 west out of West Chester. The weather was breezy and bright. The scenery was pretty amazing. All kinds of farms, creeks, hills. I can't believe I grew up around here and never noticed where I was!
I stopped at a local market, Harvest Orchard, west brandford market, and it was great. They have hotdogs for a buck! I got four. The kind lady at the counter ask where I was hiking. I mentioned what I was doing and before you know it I got free cider and doughnuts! Best...
day

...ever! One of the ladies that worked there, Tracy, mentioned that she lived not too far away and said I was more than welcome to set up camp at her and her husband's place. So huge! A save place to camp and free food, a definite opposite of what had just happened to me a few

days

prior.
It's windy and going to get close to freezing tonight. Tomorrow is a long one; I'm going to spend the night at a campsite for the first time. 28 bucks, what a rip off. I'm camping for God sakes! Ill give you ten bucks and a thank you. Blah I say to those charging hotel prices for a plot of fucking ground! I want a doughnut! Take care.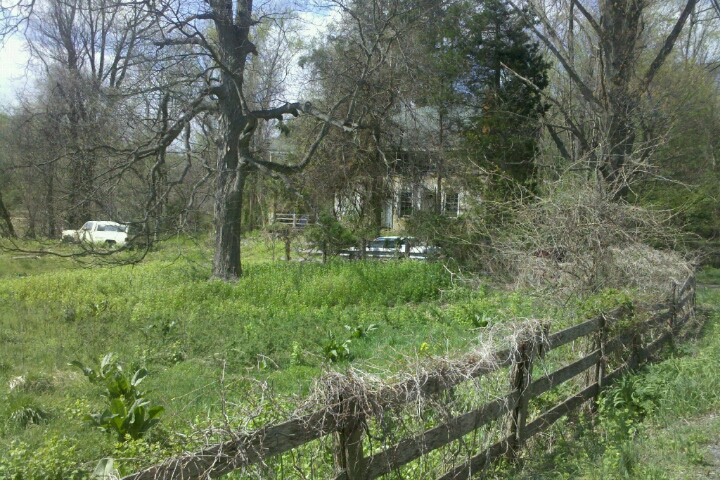 Song of the
Day

: Chachi - One Hundred Miles
Location: The Town of Gap
I made it to Lancaster County, my first goal. Today I got good and lost into westernish Pa. The second I saw the cows, I smelled em. Then I didn't stop smelling them for the next ten miles. Once threw little Parksburg and up a rather large incline I stopped to talk to a farmer for a few minutes who noticed me taken a few fotos of his cows. He must have thought I was a little strange. I thought his guy was a little strange. He was born and raised there, and now takes care of roosters and cows. When I mentioned what I was doing he simply said "alright, wow, good luck."
I saw horse and buggies, Meninite women mowing lawns, a winery, which I thought was weird around here, and finally the Loose Caboose! The last stop to my 17 mile
day

.
A small campsite with a giant fire pit and tons of free logs around to keep it going all night.
This trip is starting to seem a little more doable. I'm starting to get a little more comfortable with what I'm doing and what I have to do to get through this, like eat, these gross ass dehydrated meals with tons of protein and vitamins. Oh man these things were amacingly disgusting.
I looked up as the trees touched the stars and the heat from the fire started to fade. The dark was closing in around me but I'm not scared tonight. The first night I think I pooped my pants, but tonight I'm good, I'm full, I'm happy, I want a game of risk with Chos, Matt, YoungBen, and the big boys club! Take care.